Shiatsu- en/of voetreflextherapie stimuleren ons zelfgenezend vermogen waardoor klachten verminderen of verdwijnen.



De holistische (oosterse) werkwijze kan zowel preventief als ter ondersteuning van een klacht worden ingezet.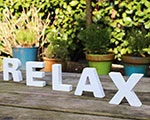 Toe aan een professionele behandeling? Waarschijnlijk.......... herkenbaar. We hebben het druk, lopen onszelf voorbij en krijgen last van onze schouders, nek, rug, vage pijntjes of hevige vermoeidheid.